Description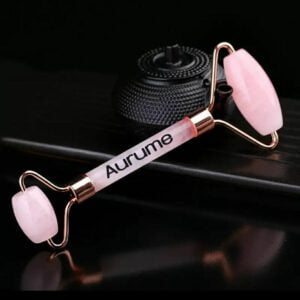 Go glowing naturally.
What is a Face Roller?
The little gadget is most commonly made from jade or rose quartz with rollers of varying sizes fixed to both ends of the handlle.They're all said to offer major skin benefits.
What does the roller do for your face?
The simple act of massaging your face with a face roller has a ton of benefits for the skin. It may even reduce stress and release tension, just like a body massage would.
Here are some key benefits:
Improves blood circulation in the face. 
Decreases puffiness. 
Cools and soothes your skin. 
Distributes skincare product deeper into your skin.
Facial massage can improve your mood: 
Using a roller can contour the face: 
Toxins can be flushed from the body by using a roller.
How to use a facial roller
Follow these steps when using a facial roller:
Apply AURUME  facial oil, serum, or moisturizer with lots of slip. 
Start at the neck and roll upward. For best results, roll up, not back and forth.